By Rachael Kartal 
Rachael Kartal went to Israel when she was in high school, then returned in 2012 as a nanny for a Cincinnati family. Violence during Operation Pillar of Defense necessitated her return to Cincinnati but that did not deter her from wanting to go back, and to live on a kibbutz. She found a way with help from Karyn Zimerman, Cincy Journeys Grant Manager at the Jewish Federation of Cincinnati; The Jewish Foundation of Cincinnati; Project TEN; and Masa-Tlalim; formerly known as Israel Pathways. Rachael spent six months, from late 2015 to early 2016, at Kibbutz Harduf. The experience transformed her and refined her life plans, which now include her goal to make aliyah (immigrate to Israel). 
I knew for a very long time that I wanted to return to Israel and volunteer on a kibbutz. I was drawn to the idea of community living, an environmentally conscious lifestyle, and a society working together agriculturally. 
First, I had to find a way to get there. Asking around led me to Karyn Zimerman, Cincy Journeys Grants Manager, who guided me in the process. In researching the various kibbutzim, I discovered Project TEN and Masa-Tlalim, partner agencies that provide Israel-based service learning programs for Jewish young adults. Their centers offer opportunities in international development, culture, identity, and Jewish activism. The programs' embodiment of tikkum olam, repairing the world, appealed to me.  
I was accepted into the program and was thrilled to be placed at Kibbutz Harduf, my first choice. The Harduf community, located in the Lower Galilee region of northern Israel, consists of approximately 700 members including 150 adults and children with special needs. As a child I had been diagnosed with a learning disability, and I've worked hard to find ways to compensate. It felt meant-to-be, that I might have a chance to share my learning, as well as learn from, the special needs members and programs at Harduf.
Upon arrival I immediately felt the beautiful community spirit of my new kibbutz. The serenity of the land and primitive living environment seemed exactly what I needed to stay focused on my important work in Israel. I was assigned to live and work with twelve young men and women from countries that included Canada, France, Germany, Hungary, and the United States.
Above: My friends Lior, Soibelman, Raphael Treperman, Shelbi Lifshitz, Laurie Fermon, Hannah Half, Matthew Frankel, Panni Kelen, Elyse Jones, and I participating in an activity in the forest (our home) led by Theater Instructor, Lior Soibelman.
The members of Harduf live according to the philosophy of anthroposophy, a creative system of education and therapy that uses natural ways to optimize physical and mental well-being. In keeping with this philosophy, Harduf offers a mix of activities—educational, artistic, therapeutic, social, and agricultural—to inspire renewal and well-being among members.
Above: Equine Therapy with Stable Manager Ruz.
The adults and children with special needs live in rehabilitative homes at the kibbutz. Beit Elisha aids adults with special needs. I spent most Sundays with them at Harduf stables, where participants learned to groom, tack, and ride horses as a form of therapy. I spent Tuesday evenings at Tuvia, the home for children in need of foster families, helping them with their English assignments.
Above: Me reading children's English book about building a snowman to my students at ZarZir ages 11-12.
It was a privilege to volunteer with these communities, and the members' deep appreciation, love, and friendship brought me great joy. 
My other work included gardening, building, and learning about biodynamic agriculture in the eco-village where I lived; planting, weeding, and composting at Harduf's organic market, where delicious foods are packaged and sold; and teaching English to 12- and 13-year-old children at a Bedouin school called Zarzir.
Above: Me doing some bio dynamic bee keeping at a friend's house in Jericho.
Weekday evenings, we had the opportunity to learn Hebrew and Arabic, study Jewish teachings, and participate in coexistence peace talks facilitated by Faiz, our Bedouin group leader, and Yaakov, one of Harduf's Israeli founders. On Fridays we cooked and cleaned for the Sabbath.
Above: Me hugging Faiz as we say our final goodbye. It was a very emotional and tearful moment.
Every other weekend we were free to explore Israel on our own, or to go on hikes and other adventures with our group. I visited Mount Hermon, Har Shlomo, the Golan Heights, Masada, Mount Arbel, Ein Gedi, and many other places.
Above: My friend, Jacklina  Eshaya, takes in the view of the dead sea after a long hike in Ein Gedi.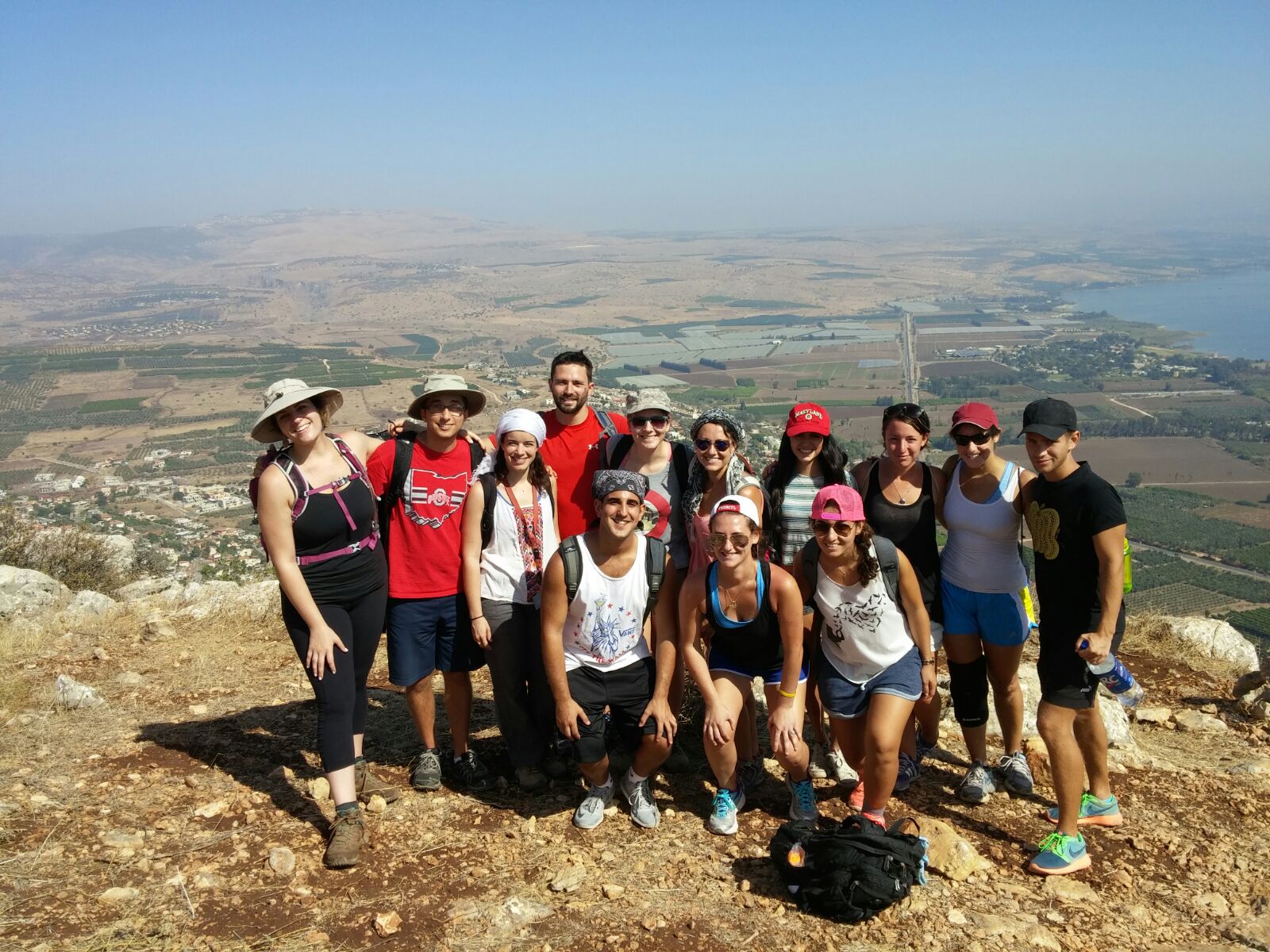 Above: A beautiful view of the Galilee from the top of Mount Arbel with friends Shelbi Lifshitz, Matthew Frankel, Justin Peedin, Dejah Rosenberg, Zach Morse, Elyse Jones, Hannah Half, Laurie Fermon, Kaaraan Papo, Panni Kelen, Raphael Treperman, and Jacklina Eshaya the trip leader/program facilitator.
Somehow, we found time to rehearse for a production of Alice in Wonderland, which we performed in Hebrew, English, and Arabic at two Bedouin schools where I taught. These young students have virtually no access to the arts. Their giggles, laughter, hugs, and exclamations of "good job" afterward showed their excitement, even for our relatively amateurish production.
The production was directed by Project TEN's Lior Soibelman, a Zionist youth movement leader, or madrich. His insights about overcoming challenges and his remarkable example of leadership changed my perspectives about life and the healing work I want to do, in ways more profound than I can describe here.
More than the activities, what made my Israel experience so life-changing were the people—the facilitators, my peers, the kibbutz members I served during my time there, and the Israelis I met during my own travels and adventures. I lived as Israelis live, worked, conversed, sang, danced, and studied as Israelis do. Kibbutz Harduf will forever remain a second home and a place of long-lasting friendships.
Plus, I learned so much. Israel is very advanced in working with people with both physical and mental disabilities. They know how to encourage them, nurture their talents, and include them in the broader community.
I came away knowing that there's a place in this world, and a need, for my skills and the ways I want to work and contribute. It is in Israel.
Back home in Cincinnati, I am exploring career paths that will complement my Early Childhood Learning degree and my experience as a nursing assistant, while preparing me to create a meaningful and rewarding life when I return to Israel.
I want to thank Karyn Zimerman at the Jewish Federation of Cincinnati, the Jewish Foundation of Cincinnati, Masa-Tlalim and Project TEN for their guidance and generous contributions that made my Israel experience possible.  
For more information about how to apply for a Cincy Journeys Israel travel grant, contact Karyn Zimerman at kzimerman@jfedcin.org, or visit cincyjourneys.org.
For more information about the Project TEN Center at Kibbutz Harduf or a center in another country (Mexico, Ethiopia, Ghana, South Africa), visit tenprogram.org/Harduf,-Israel.