Shalom from Tel Aviv! My name is Will Coleman and I will be one of the bloggers for Cincinnati's 2019 Onward Israel delegation. Each week I'll highlight the group's experiences from work, living in TLV, and exploring the rest of the country. Our itinerary covers a lot of ground over 8 weeks, but I'll make sure to share reflections, photos, quotes, and stories all throughout the summer.
Before I begin, it's only fair you get to know me first. I'm a junior at Indiana University studying Journalism. I've lived in Cincinnati my entire life and graduated from Sycamore High School. This summer, I have a communication strategy internship at a tech startup called InSoundz.
After a pair of early-morning flights and a prolonged layover in Toronto, a majority of the group was finally Israel-bound on June 4th. We landed in the Holy Land and met our madricha, Eden, a person who will serve as our advisor and counselor over the course of our stay in Israel. She was a counselor at Camp Livingston last summer. We were also joined by two participants who had just completed Birthright. A bus took us to the campus of BINA where we'd spend the next two days learning all about the summer ahead of us in our orientation.
After reading through trip guidelines and things we could expect both in the workplace and around Tel Aviv, we wrapped up our orientation by introducing the group to the neighborhood around us. A quick Friday morning of programming, which included a local scavenger hunt, meant that we were free until our internships would begin Monday morning.
With the weekend entirely open, we further acquainted ourselves with the area around us. We are situated less than a 500-foot walk from the northern entrance of famous Shuk HaCarmel, a 10-15 minute walk from the beach and a long-but-reasonable trek to both the Dizengoff Center and Sarona Market. Each day there was an opportunity to go to the beach, but we also spent time exploring the many streets and attractions within walking distance of our apartment.
If anything was true about our first week of internships, it was that there was variation in each of our experiences. Some of us were working together and/or with other Onward participants, and some were their company's only intern. Several of us were able to walk to work, most of us took the bus, but some days one or two people had commutes over an hour that included train rides. Our workloads and hours varied as well, but a constant was our ability to return to our apartments and spend time with each other in the evening.
Clockwise from left: Jacob Spiegel, Nate Schweiger, Sam Parsons, Ben Ruskin, and Micah Bachrach
After our first four days in our respective offices, our schedule saw a change of pace. We ended work early Thursday afternoon and took a bus to Cincinnati's Partnership2Gether city, Netanya. We were greeted by a set of local families, some of which were former Chaverim M'Israel, with music, dancing and icebreakers. All of this took place outside the home of a local artist, Mazal Kotti, who always has her door open for artists in the area that need a space to work. Mazal did the same for us and treated us to beer, wine, cheese and other snacks in her gorgeous garden. She even set up dozens of canvases throughout her property, threw out some paint for us and gave pointers and technique ideas. Some of us actually walked out with pretty decent paintings, but it was a fun time for everyone. Afterwards we split into small groups and drove off with different host families for a nice home-cooked meal.
We concluded our first full week in Israel with what I think has been the most interesting part of the trip: 2019 Tel Aviv Pride. I saw footage of last year's eventon social media and was told to check it out by former Onward participants, but I wasn't expecting it to be a multi-day gathering. I will say, we noticed it the day we arrived: June is Pride Month. The multicolored flags are draped from light posts all over Tel Aviv's busiest streets, not to mention our apartment is just a five-minute walk from Meir Park, which houses an LGBT community center and memorial for gay Holocaust victims.
The parade itself was on Friday and was one of the largest gatherings of people I've ever witnessed. The two major streets that run along the Mediterranean Sea were flooded with people shoulder-to-shoulder, all surrounded by colorful floats and large groups walking together. It was crazy to think that of all the pride parades going on in the world that day, I was at one of the largest, if not the largest. Everything about it was surreal, but something that topped it off was us spotting Neil Patrick Harris on the back of a float (shout out Elan for the great photo op).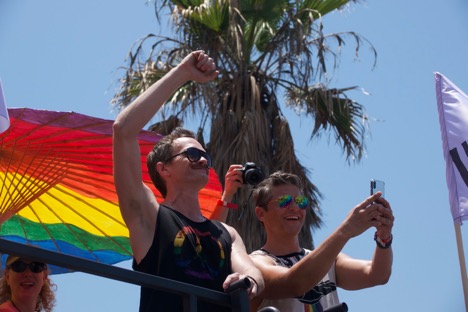 There's definitely a lot for us to adjust to still, but I thought that our balanced first week in Tel Aviv was the perfect schedule to ease us into it all. We had time to explore the city, time to get to know each other and our first opportunity to contribute to the companies we are interning for. Next week's blog will unpack our first day trip, our second week of work and our first set of Shabbaton weekends in various locations throughout the country. Until next time, Will.
---
Intern Spotlight
Name: Jenna Caller, sophomore at IU studying Media Advertising
Works for Preen.Me, a social branding company that orchestrates deals between social media influencers and certain brands. A member of the social media team, Jenna searches for popular bloggers and social media accounts who would fit the profile of a specific product that a brand wants advertised.
Name: Max Frankel, junior at Ohio State studying Logistics Management
Works for MIT Forum and Global Entrepreneurship Network Israel as a project coordinator intern. Max's job is to lead business and educational programs around Israel for groups that are looking to explore specific industries. For example, Max's first task is to oversee a group of professors from Mexico looking through the Israeli tech scene.